Exceptional aromatic body care products for
your skin's daily health and vitality!

What's New
$49.99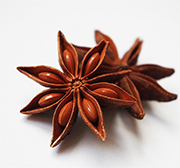 Star Anise
(Illicium verum)
Star Anise steam-distilled essential oil
has a sweet licorice-like aroma. The star-shaped
fruit is also ground into a powder and used as a
spice in Chinese and Indian cooking. Stimulating
digestive aid for indigestion, gas, cramps and beneficial expectorant for coughs, colds and bronchitis. Helpful for invigorating a tired mind. Used in low concentrations in massage oils for muscular aches and pains.


Have a question?
Need advice?
We are here to help you.

Let us know if we can answer your questions about aromatherapy, use of essential oils and carrier oils, or any of our Arlys products. Email us here.