What's New
$34.95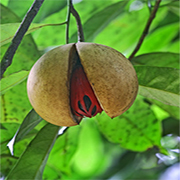 Nutmeg
(Myristica fragrans)
Nutmeg, as a spice, has been traded since the 15th century for foods and medicinal purposes. The essential oil's aroma is sweet, warm, and spicy. A potent anti-inflammatory. Due to its warming nature, benefits muscular aches & pains, and rheumatism. Invigorates a tired mind and helps calm nervousness.
A reputed aphrodisiac and used in love potions. Stimulates digestion and
encourages appetite.


Have a question?
Need advice?
We are here to help you.

Let us know if we can answer your questions about aromatherapy, use of essential oils and carrier oils, or any of our Arlys products. Email us here.