What's New
$6.99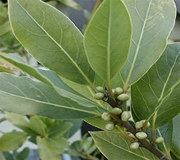 Bay Rum-Dark
(Pimenta racemosa)
Bay Rum - Dark essential oil has a fresh,
spicy, sweet aroma with a distinctive clove
note that is stimulating to the senses, and
a bit euphoric. Uplifting to the melancholy personality and helps to promote confidence and courage. This warming oil is beneficial
for frayed nerves, colds, flu, headaches, arthritis, rheumatism, muscular aches
and pains and helpful with dental infections.


Have a question?
Need advice?
We are here to help you.

Let us know if we can answer your questions about aromatherapy, use of essential oils and carrier oils, or any of our Arlys products. Email us here.