There are no products to show at this time

What's New
$16.00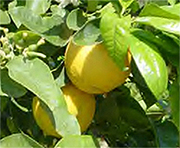 Bergamot
(Citrus bergamia)

Bergamot orange is known for it's sweet
citrusy aroma. The essential oil is expressed from the peel of this fruit.
It is uplifting, refreshing, while promoting
a sense of calm and stability. There is Natural Bergamot with bergaptenes and Bergamot FCF or BF which is further
rectified to remove the bergaptenes. Due to its analgesic properties it is found in many skin care products. When using natural Bergamot essential oil that is not
bergaptene-free, sunlight and tanning lights should be avoided as they can cause extreme skin sensitivity (photo-sensitizer). Beneficial for anxiety, anger, frustration, stress related issues and depression.


Have a question?
Need advice?
We are here to help you.

Let us know if we can answer your questions about aromatherapy, use of essential oils and carrier oils, or any of our Arlys products. Email us here.