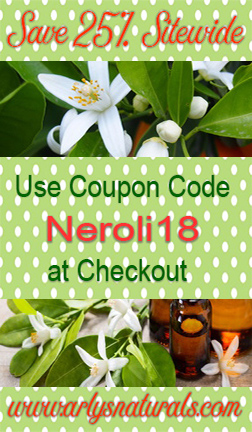 What's New
$12.15



Neroli
(Citrus aurantium,
var. amara)
The delicate white flowers of the Seville
Orange Tree have a soft beautiful scent – fresh, floral, and exotic. Very uplifting and
rejuvenating to the skin. Extremely beneficial
for dry and sensitive skin, wrinkles, stretch
marks and more. Used for depression,
eases stress and anxiety, as well as a
useful remedy for shock.


Have a question?
Need advice?
We are here to help you.

Let us know if we can answer your questions about aromatherapy, use of essential oils and carrier oils, or any of our Arlys products. Email us here.